Sussex Auto Care – MOT
BOOK ONLINE 24/7 – even when we're closed!
Perhaps one of the most important tests that needs to be performed on your vehicle every year is your MOT.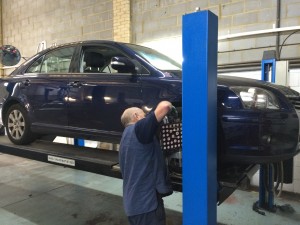 Whether this is your first Redhill MOT or number twelve, you can trust all of your MOT and retesting needs to Sussex Auto Care and our trained and experienced MOT testing technicians. All of our MOT testing is done onsite at the certified Redhill workshop and you can relax in the comfort of our waiting area with a hot cup of coffee and magazine. Our Redhill MOT testing room is even on a video feed to the main waiting reception so if you get board of our magazine selection, you can watch your MOT being carried out instead!
Redhill MOT and Retesting
Before booking your MOT, give us a ring in the office and one of our friendly advisors will go over exactly what to expect and detail the exact cost before booking. This way, you have all of the information you need before you arrive and are equipped to have a stress free and enjoyable MOT testing experience.
Booking has never been easier with our online Redhill MOT boking widget which can found at the top of this page. Simply put in your vehicle registration number into the field above and the widget will do the rest for you. As a regular Redhill MOT is a government regulation, we here at Redhill want to make that process is as stress free as possible and welcome any feedback from you on how we can improve.
Frequently asked questions about Redhill Auto Care MOT testing service
What happens if my vehicle fails an MOT?
If your car fails an MOT test, you will be issued a VT30 certificate which will explain the issues which resulted in failure. We will explain what you need to do before passing the test, and also let you know if you require specialist services.
Can I book an MOT before my car is due?
Yes. Please Note that your MOT will only be for one year from the time your car passed and not the time it was due to expire. It is wrong as you can get an MOT test a maximum 1 month in advance and if your car goes through and passes you will get the MOT for the entire 13 months.
How long does the garage MOT take?
MOT with Sussex Auto Care takes around 45 – 1 hour. feel free wait in the waiting room Next to the MOT workshop or come back once done. We also offer a collection service so we will drop it off to you.
How to Book Online